Friday was a busy day at work and a chill out night since we had to get up early to run with our team. We ended up having a yummy dinner of smoked salmon directly from Alaska. Erik's coworker's family commercial fish in Alaska and he gave some to Erik. It was delish! We also ended up eating too much burrata but it was sooo good.
The next morning, we got up at 6am. We had to meet our team at 7am!! Ahhhh. It was so early but I thought to myself, at least we are not getting up early for cancer treatment. Having the ability to get up and run these miles is a privlege.
We started in the Marina and ran down the Embarcadero thru Fisherman's Wharf. I went for 8 miles and Erik did 13!!! A half marathon!! It only took him about 2 hrs, too. The 8 miles were hard. The 7 miles two weeks ago were easy and these were just hard. I felt it at 2 miles, "this is going to be a hard one" I don't know what it was but I thought maybe a)I need new sneakers for sure b)we ate too much cheese and wine on Fri night.
After our run, we went out to breakfast with Betsy and Greg to Blue Jay Cafe. It has a southern theme to it which is fun. For breakfast, I had a egg sandwich on a biscuit with fruit on the side which was really good. There was also a LOT of food. Erik ordered french toast and an egg dish and he was stuffed.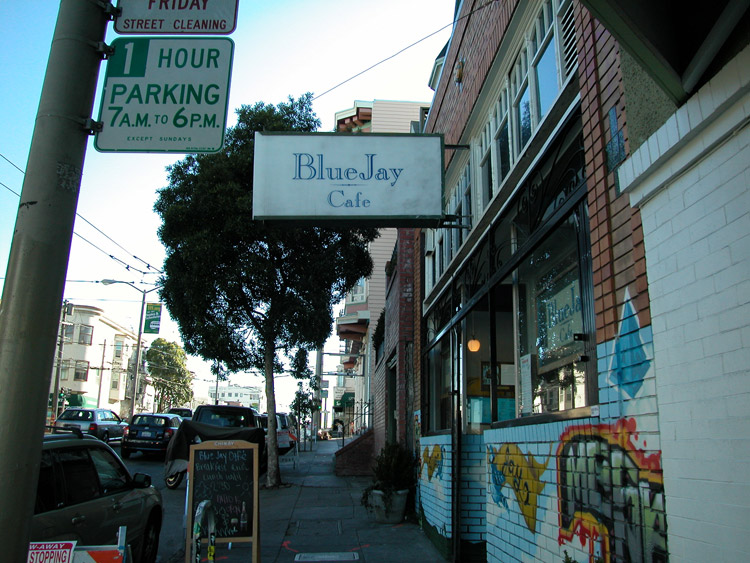 When we got home and showered, I did some chores around the house and Erik napped. I started to not feel that great - headache, achy, and so tired. I actually got into bed and took a 2 hr nap. You know what Mr. 13 miles did? Went surfing. I'm telling you - he doesn't ever quit! I was trying to drink Gatorade and water but just felt so blah.
We laid low on Saturday night and watched an awesome documentary - "
Last Play At Shea
" It was a movie about Billy Joel and how he played the last concert at Shea Stadium. What an amazing concert that must have been - soooo many artists joined him on stage. It was a good mix of showing Mets history and Billy Joel's life. We both loved it so you should rent it!!
It was a good day especially with our running accomplishment!!