On Monday night, it was our monthly Tres Amigas dinner. My friend Andrea chose the
Chez Panisse
, a well known restaurant in Berkeley.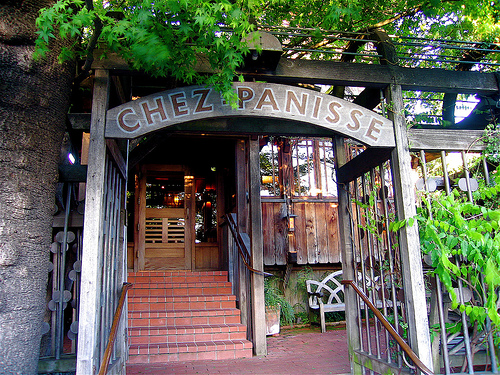 Alice Waters
, a famous chef, started this restaurant. Alice is an American pioneer of a culinary philosophy that maintains that cooking should be based on the finest and freshest seasonal ingredients that are produced sustainably and locally. She is a passionate advocate for a food economy that is "good, clean, and fair."(as told on the restaurant website)
It's located in Berkeley's "Gourmet Ghetto" which is essentially a street FULL of great restaurants.
Chez Panisse
is a pre-fixe restaurant but they have the Chez Panisse Cafe upstairs from the restaurant which is a regular menu. Since Andrea and I don't eat everything that could be on the menu, we ate at the Cafe.
Service and food were both awesome. For dinner, we shared two appetizers:
Local halibut tartare with radishes, avocado, and lemon vinaigrette
Chicory salad with avocado
For dinner, I had.....
QUAIL.
There was a chicken dish on the menu but the quail looked so much better. It came with white beans and squash. My friend Nicole said quail tastes like chicken so I decided to go for it. It was delicious!
For dessert, we shared a grilled pear galette which was also very good.
Dinner was great and it was fun to check out this Berkeley staple. I'd definitely go back...to the Cafe!