For the picnic, I made some yummy dishes. I found all of the recipes on Pinterest!
·
1 (10 oz.) bag of mini-marshmallows
·
1/3 cup yellow cake mix (the dry cake mix, not prepared into a batter!)
·
5 cups crispy rice cereal
·
1 (1.75 oz.) container of sprinkles
Melt butter in a large saucepan over low heat and add marshmallows. Stir until they begin to melt, adding in (dry) cake mix one spoonful at a time so its combined. Stir in cereal so it is completely coated with marshmallow mixture. Sprinkle in half of the sprinkles and mix. Press into a baking dish (any size will do) and top with remaining sprinkles. Let sit for about 30 minutes before cutting. I find spraying a knife with nonstick spray helps to cut them.
The Verdict: Tasted just like Rice Krispie treats and didn't taste the cake batter. Still delicious!!
1/2 cup butter, melted
1 cup packed light brown sugar
1 1/2 cup flour
1/2 teaspoon baking powder
1/4 teaspoon baking soda
1/4 teaspoon salt
1/2 teaspoon

pumpkin pie spice
1/4 teaspoon ground cloves
1 egg
1 teaspoon vanilla
1 can (15 ounces) pumpkin puree (the smaller can, NOT pumpkin pie mix)***
1/2 cup white chocolate chips
Powered sugar for dusting
Preheat your oven to 350 degrees F and l
ightly grease and flour a 13x9-inch baking pan.
In a large bowl, mix together butter and brown sugar. Set aside.
In a medium bowl, whisk together flour, baking powder, baking soda, spices, and salt. Set aside.
To brown sugar mixture, whisk in egg, vanilla, and pumpkin until combined.
Slowly mix in flour mixture and stir until just combined. Gently stir in your white chocolate chips.
Pour batter into pan. Bake for 20 minutes or until a tooth pick inserted in the middle comes out clean. Allow to cool completely on a wire rack.
Sprinkle with powdered sugar and cut into desired serving size.
Ingredients
1 8-ounce package cream cheese, softened
1/2 cup butter, softened
1¼ cup powdered sugar
4 tablespoons brown sugar
1/2 teaspoons vanilla
1 cup semi-sweet chocolate chips
1 cup English Toffee bits
Instructions
Mix cream cheese, butter and sugars together until creamy.
Add vanilla and remaining chips and bits.
Refrigerate until ready to serve.
Serve with vanilla wafers, graham crackers, pretzel sticks or apples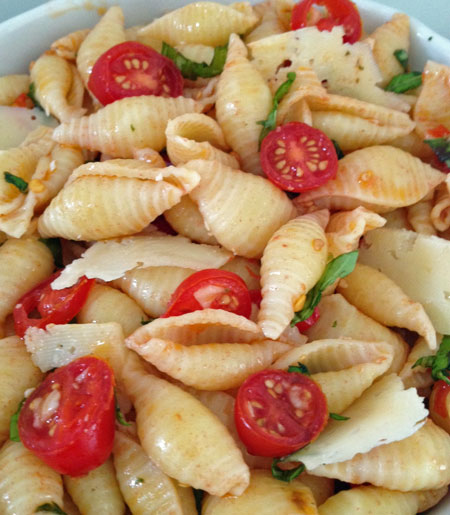 1/2 c. extra virgin olive oil
3 garlic cloves, finely chopped or minced
3/4 t. sea salt
1/2 t. red pepper flakes
1 pt. small cherry or teardrop tomatoes (I used sugar plums)
1 lb medium seashell pasta
1/2 c. Parmesan cheese, shaved
1/2 c. thinly sliced fresh basil leaves
Combine oil, garlic, pepper flakes and salt and simmer on very low heat for 5 minutes or so; being careful not to burn the garlic. Slice half of the tomatoes and stir the tomatoes into the mixture and simmer another 5 minutes.
Remove from heat and place in a large bowl. Place the other half of the sliced tomatoes into the mixture and stir. Let stand for about 30 minutes, stirring occasionally. (Raw tomatoes get juicy as they stand, which helps create the sauce.)
Meanwhile, cook pasta as package directs for al dente in a large pot of salted water. When done, drain and toss pasta with tomato mixture, then with the cheese and all but 1 tbsp. basil. Sprinkle remaining basil on top and season with a little salt, to taste.
I will have to dig for the recipe for this one. I printed it and can't find it now. It was super easy - just spread 2 cans of refried beans in the serving bowl first, then shredded cheddar, then mashed avocados, more cheese, top with sliced tomatos, scallions, and cilantro. Deeeeelish!
All the food was a big hit. We also had a grill and bbq going on. Such a fun picnic!!