Erik had a meeting after work today so it was just Me and Evie for a little while. We went for a walk, went to Pet Food Express, and Whole Foods to hit up the salad bar for dinner. On our own for dinner = no cooking! Yay!
I also got two mini desserts - one for me and one for Erik. I always get the fruit & custard tart and Erik gets a chocolately one. I LOVE this dessert. Can't go wrong with fruit and custard!
When Erik came home, we watched the Rangers game since it is the playoffs! Although this is a short season, we sure are watching a LOT of hockey.
I wanted to share out some things I am loving lately....
A Few of My Favorite Things
Evie's dog food is Hill's Perscription Diet and you can only get it at the Vet or a specialty store. We used to walk to the Vet to get it in SF. This site sells Evie's dog food so I didn't have to find a new place to buy it over here in our new 'hood. We are even on a monthly auto shipment so we never run out of food. It's so easy and they do not charge shipping fees over a certain dollar amount! It's the same price for us to buy from a store or this site, with all the convenience of having it show up on our doorstep!
2. Balsamic with Honey Dressing
This dressing is Deeeeeeelish! Plus, you can find it at the store for Buy One Get one Free sometimes! Yes, please!
3. Trader Joe's Roasted & Unsalted Sunflower seeds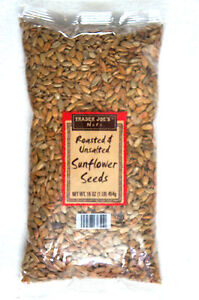 So good. Put them in your salad and it makes the salad taste more exciting!
4. Pace Garlic & Lime Salsa
I pretty much love any salsa verde I meet and this one is no different. Chunky, spicy, so good.
5. Dentotape
If you are using Glide floss, you might as well just not floss. This Dentotape is the real deal. It is thick and legitmately pulls food out from in between your teeth. After using this, my Dentist said my teeth and gums have never looked better. Booyah.
Well, those are some of my favorite products these days. If you try them, hope you like them!