Saturday was a day of getting stuff done AND having fun which always means a good day. We got some little odds and ends completed including hanging some picture frames, hanging up a pots & pans holder in the kitchen, did all of the laundry, changed the sheets, brought Evie to the park, and cleaned out the closet. Whew.
After all of that was done, we hopped on our bikes and went down to
4th Street
for lunch. We went to
Cafe M
for lunch and sat outside. It was a great little place!
We then stopped at a little book store and then headed home. We live only 1.5 miles away from 4th St so it was an easy ride but I haven't been on my bike in a looooonnnnng time! We came home and hopped on the couch to rest with Evie.
For dinner, we walked up to
Jupiter pizza.
We don't think the pizza here is that great but they have a great beer selection. Plus, we are able to walk in and get a table right away which is always nice.
After pizza, we stopped by the $1 ice cream cone place for a cone and then walked home.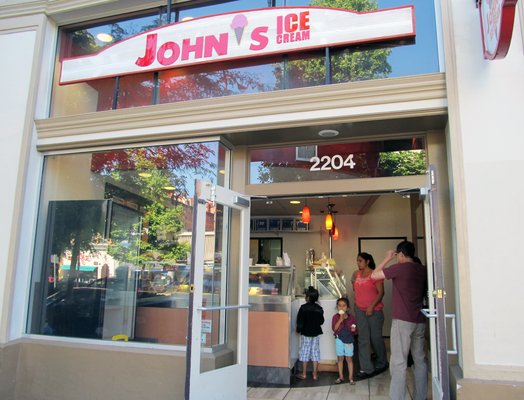 We love, love, love living just 10 min from downtown. We can easily walk or bike to a ton of other places. The weather has been so awesome here, too. 70's and sunny. No fog.